Articles
Details

Written by Super User
Category: Products & Services
Published: 16 February 2015
Hits: 19209
ML Erectors specialize in the sales, service, rebuilding and installation of the ever popular Muller Martini 227 inserter. Whether your needs are on-site service or one of our completely remanufactured machines you can count on ML Erectors to provide the solution for all your 227 needs.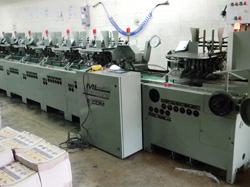 Remanufactured Inserters
The inserters are stripped down, sandblasted and painted or black oxided. Each part is thoroughly inspected and replaced if worn or broken. Drum shafts and hand wheels are upgraded to our hex drive (Read More). Inserter is reassembled with all new bearings, belts, hoses and chains. Transport spacing is reduced if requested (Read More). Finally, our own EZ COM controller (Read More) is installed and production test runs are performed prior to shipment.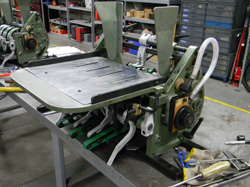 Hopper Exchange
Rebuilding your worn out hoppers is one of the most cost effective ways to improve throughput on your inserter. Remanufactured hoppers go through the same process as our remanufactured inserters and receive our hex shaft upgrade. We will send you a remanufactured hopper, you install it at your convenience and send us your old one back.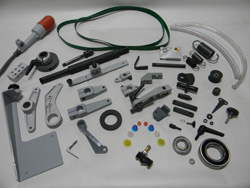 Parts/Service
ML Erectors has a full line of Muller Martini 227 parts in inventory (Read More). ML Erectors can also provide Field Service for routine maintenance as well as emergency service calls. We also offer complete operator and maintenance training as well as custom maintenance programs. Call or email us for more details.
Our Customers Say...
"ML Erectors has performed like no other erection company that we have contracted before. Their work ethics and drive to accomplish a project, goes above and beyond any company I have worked with, including my own."
Read More...
"Matt has always understood the old saying that we rise or fall together and he has made teamwork with my plants, job number one in our relationship."
Read More...